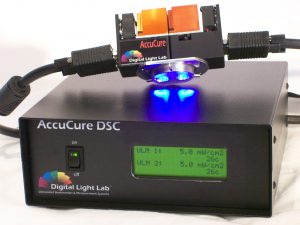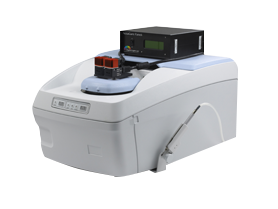 Contact us today to speak to a product specialist
Description:
The PhotoDSC is a UV and VIS LED-based photo accessory system for the sample and reference cells of leading manufacturers' DSC (Differential Scanning Calorimeter) including TA Instrument's Q and Discovery Series as well as Perkin Elmer's 4000 & 6000 series, Mettler Toledo, among others as well.  The PhotoDSC system offers continuous or pulse mode of operation with USB interfaced control software and integrated optical feedback to provide built-in radiometer functionality, as well as included communications capability with the DSC system's external trigger interface.
(Digital Light Lab is not affiliated with TA Instruments or Perkin Elmer, Q and Discovery Series DSCs are trademarks of TA Instruments.  DSC 4000 and 6000 are trademarks of Perkin Elmer )
Available Wavelengths:
265nm, 285nm, 310nm, 365nm, 385nm, 395nm, 405nm, 420nm, 435nm, 445nm, and others.
Beam Pattern:
Spot
Aperture:
20 mm
Built-in Detector:
Yes
Cooling:
Forced Air, Built-in Fan