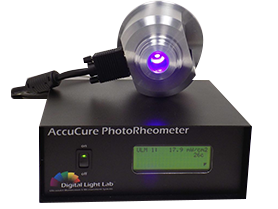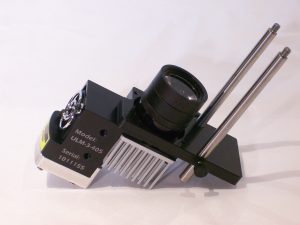 Contact us today to speak to a product specialist
Description:
The PhotoRheometer is a UV and VIS LED-based photo accessory system for the sample area of leading manufacturers' Rheometers including TA Instrument, Perkin Elmer, and Anton Paar, among others.  The PhotoRheometer system offers continuous or pulse mode of operation with USB interfaced control software and integrated optical feedback to provide built-in radiometer functionality, as well as included communications capability with the Rheometer system's external trigger interface.
(Digital Light Lab is not affiliated with TA Instruments, Perkin Elmer, Anton Paar, or any other Rheometer manufacturer )
Available Wavelengths:
265nm, 285nm, 310nm, 365nm, 385nm, 395nm, 405nm, 420nm, 435nm, 445nm, and others.
Beam Pattern:
Spot
Aperture:
20 mm
Built-in Detector:
Yes
Cooling:
Forced Air, built-in Fan